Edge Biography
3 min read
There have been rumors about the death of the professional wrestler known as Edge. But more reliable reports indicate that Adam Joseph Copeland is alive and well. It seems he just wanted some time away from the wrestling spotlight. As Mark Twain once wrote, "New of my death have been greatly exaggerated."
Copeland, now 36, was born in Canada in 1973. He wrestled under the World Wrestling Federation's Raw brand and is a World Wrestling Entertainment (WWE) wrestler now. Edge was first an independent wrestler and grew in popularity during the mid-1990s. He was active in both individual and tag-team matches, eventually signing with WWF in 1997.
Getting an Edge
It was at this time that Copeland began using the ring name Edge. He won the Intercontinental title quickly, taking that championship in 1999. His tag-team success with Christian led to seven WWF Tag Team championships. While they become well-known and popular in Tables, Ladders, and Chairs matches, the partnership broke up in 2001. Copeland, as Edge, has been a world champion nine times. He was also King of the Ring in 2001 and has been successful in getting a few film and television appearances.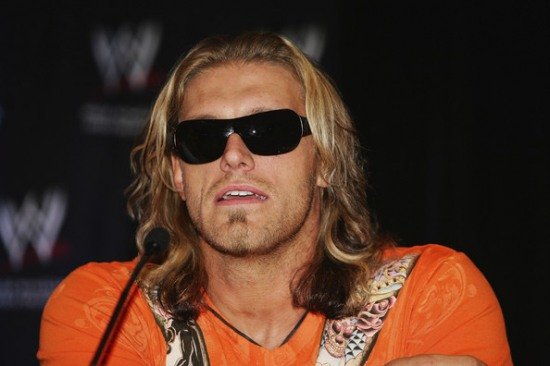 Edge was born in Ontario to a single mother. He showed an early interest in wrestling and counted Hulk Hogan, Randy Savage and others among his favorites in the ring. He trained with Ron Hutchinson and Sweet Daddy Siki and also attended college. Copeland holds a college degree in the field of broadcasting. But his main interest remains with professional wrestling. He has been part of The Suicide Blondes with Cage and received some assistance from pro Bret Hart.
With WWF
Edge made his first television appearance in the late 1990s and appeared in pay-per-view action in August of that year. A staged feud with Gangrel ultimately led to an alliance called The Brood. That group became part of the Ministry of Darkness with The Undertaker in the lead. Edge battled his way to the top to take his first WWF Intercontinental championship in 1999.
Copeland, as Edge, became a popular wrestler with the fans and was very successful during the period from 2001 to 2004. This period involved some controversy with Christian, a match with Test in which Edge lost the Intercontinental title and a feud with Williams Regal. This period also included two key accomplishments in Edge's career – tag team titles with Hulk Hogan and with Rey Mysterio.
Edge was a serious contender in the heavyweight division in 2005. He went on to take the WWE championship in 2006 and also fought a memorable match with John Cena. Edge and Randy Orton put together Rated-RKO, a tag team that soon held the team championship. Injury slowed Copeland's activity for a short period but in January 2010 he was in the Royal Rumble match. Edge, who has been married and divorced twice, has been connected with steroid controversy within professional wrestling ranks. He remains a recognized superstar of professional wrestling in spite of the stories and rumors surrounding his personal life.