Batista Biography
2 min read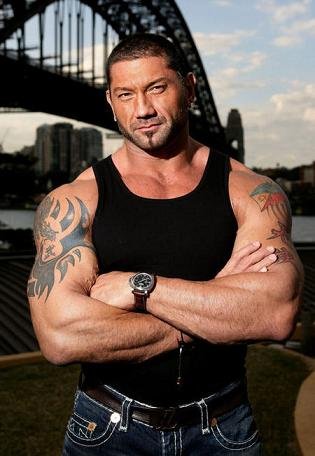 Real Name: David Michael Batista.
Date of birth: January 18, 1969.
Height: 6 feet 5 inches.
Finishing Move: Spinebuster and Batista Bomb.
David Michael Batista was once a bouncer before trying wrestling at WCW. However the WCW made a bad decision that he would never become a successful wrestler. However, he got his wrestling training from Wild Samoan Afa, and in the year 1997 he made his debut.
In May 9, 2002, Batista made his debut in WWE's Smackdown. Though he later left Smackdown and went on to team up with Ric flair to debut on Raw in November 4, 2002. In January 27, 2003, he became a member of the team "Evolution" which also has Randy Orton, Triple H and Ric Flair.
In the year 2003, Batista faced an injury to his biceps and had to miss eight months of wrestling. However, he made a comeback and went on to become a wrestling superstar. He won the 2005 Royal Rumble and got qualified for WrestleMania 21, where he won the world heavyweight championship from Triple H.
In 2006, he again sustained injuries and had to leave the World Heavyweight Title. Nonetheless, on November 26, 2006, Batista reclaimed the title at Survivor Series. He also regained the title that he lost to the Undertaker at WrestleMania 23, by defeating Rey Mysterio and the Great Khali at the 2007 version of Unforgiven. He then lost the title when he was defeated in a triple-threat match by Edge and the Undertaker. He got back the title by defeating Chris Jericho in 2008 at Cyber Sunday.
World Heavyweight Championship wins:
April 3, 2005, WrestleMania 21: Batista defeated Triple H.
November 26, 2006, Survivor Series: Batista defeated Booker-T.
September 16, 2007, Unforgiven: Batista defeated The Great Khali and Rey Mysterio.
October 26, 2008, Cyber Sunday: Batista defeated Chris Jericho.