John Cena Biography
3 min read
John Cena Stats
Height: 6′ 1″
Weight: 240 pounds.
Nickname: "Doctor of Thuganomics".
Hometown: West Newbury, MA.
Finishing Move: FU.
Signature Move: Attitude Adjustment, STF.
Trained by: UPW.
Career Highlights: World Heavyweight Champion, WWE Champion, U.S. Champion, World Tag Team Champion, 2008 Royal Rumble Winner.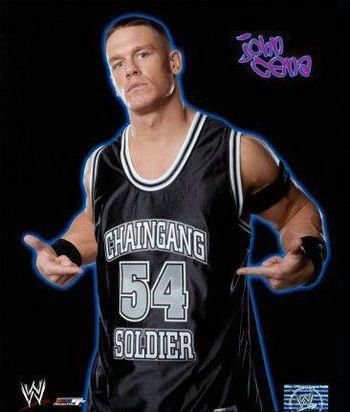 John Felix Anthony Cena better known as John Cena, is a world famous WWE wrestler born in West Newbury, Massachusetts in the year 1977. Standing 6-foot-1 and weighing around 240 pounds, John Cena Started off as footballer in college and later got into bodybuilding. Cena passed out of college with a degree in exercise physiology and human anatomy from Springfield College, Massachusetts.
In the year 2001, John Cena was cast in "Manhunt", the UPN reality TV show. However, the show was later canceled due to poor ratings and some doubts concerning the authenticity of the program. John Cena made his debut in WWE against Kurt Angle in a wrestling match on 27th June, 2002. Celebrated famously as "Prototype", Cena is well known for bringing the hip hop style into wrestling. His fans love him notoriously for the way he uses rap as an instrument to throw verbal abuses on his rivals and others who he hates.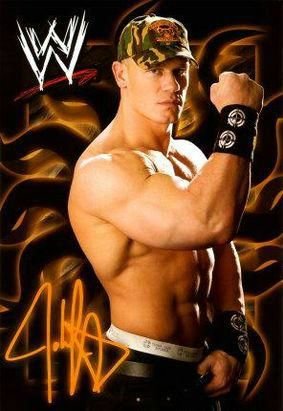 The year 2004 was one of the most successful for John Cena. It was in this year that the wrestler won the United States Championship from the Big Show. Later in 2005, Cena got into some clashes with John Bradshaw Layfield, his manager Eric Bischoff and some of his other colleagues like Chris Jericho and Edge.
Apart from ruling the wrestling ring, John has even worked in movies. In 2006, he acted as the main character of the WWE franchise movie "The Marine". Though the movie had a pretty ordinary screen play, hardcore fans of Cena lined up to watch the movie wherever it was released around the world. Cena's histrionics has also made its way into the world of Music. He has a rap album debut "You Can't See Me" to his credit, which in fact was ranked at 15 on the US Billboard 200 chart.
In 2007, Cena fought a wrestling match against Kevin Federline who is actually Britney Spears' ex boyfriend. Though John was defeated in that match due to some illegal help to Kevin Federline from Umaga, he paid back by body slamming Kevin Federline backstage. He later on went on to become the first wrestler to beat Umaga in 2007. He also won a tag team match teaming with Shaun Michaels against Randy Orton and Edge. In October 2007, John lost his WWE Championship title due to injury caused by a tear in his pectoral muscle when he tried a hip toss in a match against Mr. Kennedy. Nonetheless Cena made his comeback in 2008 and won a Royal Rumble match and the title shot of Wrestle Mania. He followed this with victory against JBL, at Judgment Day.
John Cena has been an all-rounder with his participation in diverse areas apart from wrestling like music, movies and fashion. Although injuries had played havoc in his career, he has even so shown resilience in coming back. That's why we can surely expect more fire works from the superstar in the near future, not only in wrestling but also other areas in the world of entertainment.