Jeff Hardy Biography
3 min read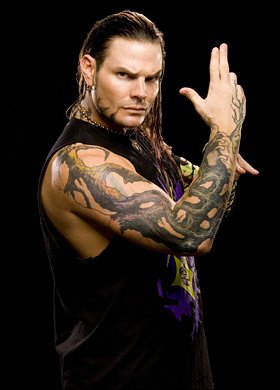 Jeff Hardy now works under the Total Nonstop Action Wrestling banner but most fans of professional wrestling know him from his time with World Wrestling Federation (WWF) and World Wrestling Entertainment (WWE). Hardy, who was born in 1977, first pursued an interest in motocross racing and high school football. But he eventually chose professional wrestling as his main pursuit.
A major portion of his time was spent developing the Organization of Modern Extreme Grappling Arts (OMEGA) with his brother Matt. Eventually the duo signed on with WWE, taking part in tag team matches and gaining popularity was Team Xtreme. Hardy lists six World Tag Team titles to his credit along with a WCW Tag Team Championship.
Titles Galore
Jeff Hardy is also a successful wrestler in individual matches, with three World Champion titles to his credit. He is also a four-time champion of Intercontinental wrestling and once held the European Champion title. He may be best known for his WWE Championship (Armageddon, December 2008).
However, Hardy wasn't always at the top of the professional star list. He worked as a "jobber" when in his teens. Jobbers in professional wrestling are the fall guys who lose so that the well-known opponent appears to be stronger and invincible. His wrestling experience includes the curious period in the Trampoline Wrestling Federation that didn't get too far from its hometown roots. This was followed by OMEGA, a promotion/marketing effort that closed the doors when the Hardy brothers signed with WWF (1998).
Legendary Help
The brothers were fortunate to learn from one of the great names in wrestling, Dory Funk, Jr., along with such wrestling stars as Kurt Angle, Christian and others. Eventually the duo wrestled under the name "Hardy Boyz" and won their first tag-team title in 1999. They competed in the first "ladder" match and in 2000 formed Team Xtreme with Lita.
Jeff Hardy is known for tattoos, especially the roots that reach from his head, down his arm to his hand. He also has a dragon tattoo and Chinese symbols of various kinds. Fans learned of his arrest in 2009 on charges related to prescription drugs and drug paraphernalia. During his WWF/WWE days he was often called reckless and undisciplined, though this may have been because some of his methods were unorthodox in comparison to other WWE performers.
Hardy has also been connected to a feud with Brock Lesnar, following a 2002 incident between the two. Lesnar took the subsequent match with a knockout. But Hardy also won a third Hardcore title that same year. Jeff Hardy was released from his WWE connections in 2003. The organization cited "erratic behavior and drug use, among other reasons. Hardy said he was burned out and needed extensive time off.
After this break, Hardy worked independently and then with Total Nonstop Action Wrestling. He returned to WWE action in 2006 with a much-advertised match as part of the Raw serious. The Hardy brothers reunited for a short time in 2006 and 2007. Jeff Hardy is no longer associated with WWE and has connections with Total Nonstop Action Wrestling again.