The Undertaker Biography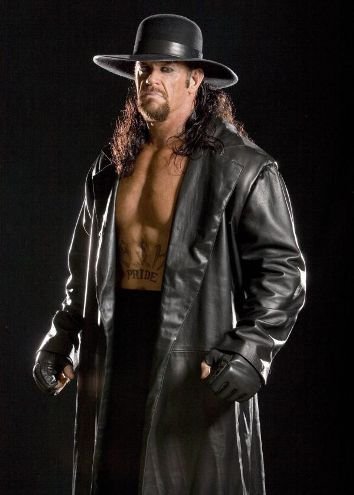 The Undertaker Bio
One of the most recognizable and most popular stars in the WWE galaxy, The Undertaker has been called terrifying and notorious. Those who understand professional wrestling and the show-business nature of the industry know that the man who is presented as being "from Death Valley" can also be called successful.
In "real" life, The Undertake is Mark William Calaway. Born in Houston, Texas in 1965, Calaway has grown from an infant to become a 6'10" mountain of a man, moving his 300-pound frame around the ring for a quarter of a century. He has been an active performer in World Class Championship Wrestling, World Championship Wrestling (WCW) and the World Wrestling Federation – now World Wrestling Entertainment (WWE).
In his long wrestling career, The Undertaker has relied on some signature tactics with appropriate names like the Deadman. His matches have been billed as the Buried Alive match, Last Ride match and of course, Hell in a Cell. He has worked with Kane as a team called the Brothers of Destruction. Records of his professional career show that he is undefeated in WrestleMania and holds multiple championship titles, including: eight world championships, four WWF/WWE championships and three World Heavyweight championships. His record includes numerous tag-team titles as well.
The Undertaker's Old Look.

Gong!!

For The Undertaker, appearance counts as much as anything he does as an athlete and professional wrestling performer. His physical stature and his glaring look have made him one of the most feared opponents in the ring. The signature gong that announces his entrance sets the tone for what follows. He has combined this terrifying atmosphere with remarkable athletic ability to become one of the greatest in professional wrestling history.

He has contributed to his frightening persona with mysterious "disappearances" that kept him out of the public eye for months at a time. He has always returned, sometimes to employ his original Tombstone Piledriver. He survived a match that may have ended his undefeated streak when he used this signature move twice to get the best of HBK.

The Undertaker toiled in relative obscurity for the first five years of his career, though followers of World Class Championship Wrestling and the Continental Wrestling Association knew of him from 1984 to about 1989. He "broke out" with a United States Wrestling Association championship victory over Jerry "The King" Lawler in April 1989. At the time he was billed as the Master of Pain.

His conquests in the ring include victories over such notable opponents as "Stone Cold" Steve Austin, Jake "The Snake" Roberts, Randy Orton and many others. He is remembered by avid fans as the first to escape from the "vise grip" of The Great Khali (7'3" and 420 pounds). In the past he has been known in the ring as "Mean" Mark Callous, Master of Pain, The Punisher and good old Texas Red. He now lives in Austin, Texas.

The man who modeled his persona after an Old West mortician (long coat, hat and gloves) has an honest, future claim on a spot in the wrestling Hall of Fame.

Category: